We had a lovely Christmas at home this year. Jack got several days off work, and it was wonderful having some extra time with him. He and Leo had fun setting up elaborate train tracks configurations down the hallway, around the coffee table, and underneath Lincoln Log bridges.
We visited the National Christmas tree on Christmas Eve and also had some friends over. On Christmas day we opened presents, listened to a wonderful Christmas program at church, and then returned home for a nap. Our friends, the Huntsmans, came over that evening for a big dinner. Leo had fun hanging out with their three little girls, and playing with all his new toys.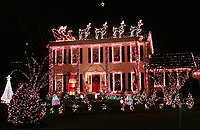 We also saw some very cool Christmas lights in our area. There is a great
website
that lists all the addresses of the decorated houses, and even has photos. Our two favorites had all the lights synchronized to music... they were very cool! Leo was mesmerized by all the flashing lights.
We also saw the "ICE" show at the Gaylord Hotel. It's a massive set of ice sculptures created by a team of artists from China. This year's theme was the Madagascar movie. Everyone has to put on heavy parkas before going into the bubble because it's FREEZING in there. It was pretty impressive, and Leo particularly enjoyed the giant ice slides. Can you believe all those figures are made of ice?
We missed spending time with our extended families this year, but it was so nice to be at home. Mandi created a "Christmas Book" this year. It's full of stories and scriptures and we read one every night leading up to Christmas. It really helped us feel the spirit of Christmas, and kept us focused on Christ. We are so grateful for his perfect life, and for his great sacrifice for us. It's wonderful to celebrate his miraculous birth this time of year. We wish you all a very Merry Christmas and a Happy New Year!