Friday, December 30, 2011
Monday, December 26, 2011
We had a lovely Christmas at home this year. Jack got several days off work, and it was wonderful having some extra time with him. He and Leo had fun setting up elaborate train tracks configurations down the hallway, around the coffee table, and underneath Lincoln Log bridges.
We visited the National Christmas tree on Christmas Eve and also had some friends over. On Christmas day we opened presents, listened to a wonderful Christmas program at church, and then returned home for a nap. Our friends, the Huntsmans, came over that evening for a big dinner. Leo had fun hanging out with their three little girls, and playing with all his new toys.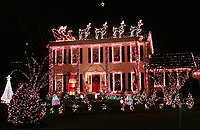 We also saw some very cool Christmas lights in our area. There is a great
website
that lists all the addresses of the decorated houses, and even has photos. Our two favorites had all the lights synchronized to music... they were very cool! Leo was mesmerized by all the flashing lights.
We also saw the "ICE" show at the Gaylord Hotel. It's a massive set of ice sculptures created by a team of artists from China. This year's theme was the Madagascar movie. Everyone has to put on heavy parkas before going into the bubble because it's FREEZING in there. It was pretty impressive, and Leo particularly enjoyed the giant ice slides. Can you believe all those figures are made of ice?
We missed spending time with our extended families this year, but it was so nice to be at home. Mandi created a "Christmas Book" this year. It's full of stories and scriptures and we read one every night leading up to Christmas. It really helped us feel the spirit of Christmas, and kept us focused on Christ. We are so grateful for his perfect life, and for his great sacrifice for us. It's wonderful to celebrate his miraculous birth this time of year. We wish you all a very Merry Christmas and a Happy New Year!
Posted by

Jack and Mandi
at 5:18 PM
1 comment:

Sunday, December 11, 2011
We just returned from a two week trip to Thailand. We took over 400 photos, so I am going to attempt a "brief" overview of all the amazing things we did and saw...
We arrived in Bangkok after two long flights- 14 hours from LA to Tokyo, and 6 hours from Tokyo to Bangkok. Leo did great on both of the long flights, and slept for the entire second flight. The airport in Bangkok is clean, modern and filled with orchids. We took a taxi to downtown (about 30 minutes away) to our friends' home. (the Crawfords) They live in a huge high rise building that has huge, very modern apartments, with large balconies on 3 sides. They even have a pool and semi-indoor playground area. From their building it is easy to walk to the metro, or take a taxi.
For our first day of sightseeing we went to the Grand Palace, a walled complex of the former Palace and some Buddhist Wats (temples). Leo fell asleep in the taxi and he slept for the 20 minute ride to the Grand Palace. Taxis are so cheap there- our 20 minute ride cost about $4.
The Grand Palace was incredible. The intricacy of the designs and the mosaics made of mirrored tiles were unbelievable. I had seen photos of them before, but seeing them in person was so different. All I can say is Wow! We were there about an hour, walking around. It was very hot and humid, so we were ready to cool down after that.
We also walked through an outdoor market, where locals buy their meat and produce, or get a bite to eat. It was a colorful and exciting thing to see.
This vendor sold every kind of dried seafood. There were some very interesting things... and the smell was a little overwhelming.
The next day I went to a Thai cooking school for a half-day of instruction. It was so much fun! We started by going to the market where they showed us the different fruits and vegetables and spices. Then we were in a small class room for a demonstration, then moved to the kitchen where we each had a station and cooked the dish we just learned. I had a blast, and learned so much. The food was delicious, and I can't wait to make more of it when i get home!
We even got to ride an elephant! It was a half-hour ride, which was very bumpy and felt like riding a very slow roller coaster. Leo kept pointing to the elephants ahead of us and behind us, saying "elephant"...

and I kept trying to tell him that he was ON an elephant...

but I don't know if he really got it. Oh well. We got some great photos, and even if he doesn't remember this day, we will have the photos and lots of stories to tell him. At the end of the ride, I guess all the swaying back and forth got the better of Leo, and he started falling asleep. (It was way past naptime) He couldn't even hold his head up- it was so cute.
In Chiang Mai I decided to try a Thai Massage. They are very different than a regular massage (what they call an "Oil Massage"). You wear some loose cotton clothing while they massage your muscles and stretch your limbs. It felt like a combination of massage, yoga, and a chiropractic adjustment. I kept thinking "Oh, I didn't know my arm could bend like that..." At one point I was sitting up, and she was working on my back. All of a sudden she rolled me backwards and I was suspended in the air with my back arched, balanced on her shins! (I still can't figure out how she got me up there!) The whole thing was very cool, but bizarre too. She stretched my back, neck, arms and legs in ways I never thought possible, and it felt great. I didn't have a touch of soreness the next day, which tells me she really knew what she was doing. I walked back to the hotel, totally relaxed and feeling loose.
We visited several Wats in Chiang Mai. The architecture is amazing. It's so intricate and beautiful.
We are staying at the Nakamanda Resort. The resort is made up of dozens of little villas that cover the sloping hillside down to the water. There are lovely fountains, ponds,palm trees, orchids, jasmine, and every sort of tropical plant. It is an amazingly beautiful setting. And our villa was incredible. Everything was dark teak wood, with a soapstone tiled bathroom and steam shower. There is a large bathtub with skylight above and on either side- pools of water with water lillies growing in them. Our king-size bed looked out a large window with a view of the tropical gardens. Just outside our room was an outdoor terrace with a large lounging cushion and pillows, with a ceiling fan overhead. This is definitley the nicest place we have ever stayed. And the service was amazing! We spent lots of time at the pool, reading our books, taking leisurely naps, and walking on the beach. It was heavenly.
We showered and then headed out for dinner, determined to find some authentic food. We found the most hole-in-the-wall place, with only locals eating there, and sat down. We ordered 3 things that we haven't tried before, and they were all amazing! We had a papaya salad- unripe papaya is shreaded and covered with a sweet, spicy vinagrette and roasted peanuts. Yum! And we had some sort of creamy coconut milk curry, and a whole fish that was deep fried with minced shallots, green onions, and an amazing sauce. We loved all of it. And our tolerance for spiciness seems to have increased since being here. (It's a good thing too- because everything is delicious!) The Thais are masters at balancing sweet, spicy, and sour in their cooking. All the ingredients are fresh and it's been so fun to try new dishes every day.
We flew back to Bangkok and picked up Leo. Then we flew home, with an overnight layover in Japan, which was fun. It was a VERY long flight after that, but we are so glad to be home now.
Now we're just trying to adjust to the time change, and sleep during the night, instead of being wide awake...
Posted by

Jack and Mandi
at 3:32 AM
3 comments:

We made our yearly pilgrimage to California for Thankgiving. We camped at the beach with my extended family and had a great time, as ususal. The weather was pretty warm, and sunny. We enjoyed taking bike rides, walking along the beach, and exploring the tide pools.
Leo had a great time splashing in the water, playing in the sand, and hanging out with his cousin Bridger.
Posted by

Jack and Mandi
at 3:04 AM
No comments: